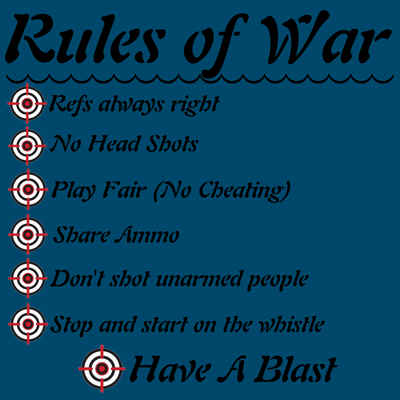 This form must be read and completed prior to participating in any event provided by Kodas Mobile Dart Battles.
I wish to participate in a Kodas Mobile Dart Battles event and in signing this document I agree that the below information is correct. I consent and understand all of the following conditions of my time with Kodas Mobile Dart Battles and hereby and forever discharge from any claims and liabilities what so ever without limitation that I may have against Kodas Mobile Dart Battles, including staff, volunteers, or employees and the owners of the property on which the events are held and any other players who might injure me however arising. I make this release on behalf of heirs, my executors, administrators and myself. I consent and fully understand:
• That the events are physically and mentally intense and may require extreme exertion to play.
• The possibility of injury to myself and others exists.
• That indoor or outdoor activities carry the danger of trips slips falling over and other common physical injuries or hazards.
• I am fit both physically and mentally to participate in my chosen event.
• That eye protection and other safety equipment provided is to be worn at all times within the gaming arena.
• I understand that failing to comply with any rules stated verbally as well as written documents will result in ejection from the chosen activity and no refunds will be offered.
• I must always follow the instructions of my Kodas Mobile Dart Battles attendant/host.
• I must not climb on any of the structures or inflatable barriers within the gaming arena.
• I must not consume any alcohol prior to the session or activity.
• I fully understand all of the terms and conditions both in documentation and in all verbal agreements and am of age to take part in any activities by Kodas Mobile Dart Battles.
• I also give my permission for Kodas Mobile Dart Battles to use any pictures and video I may appear in for their use in advertising or other means.
*New- WAIVER/RELEASE FOR COMMUNICABLE DISEASES INCLUDING COVID-19
ASSUMPTION OF RISK / WAIVER OF LIABILITY / INDEMNIFICATION AGREEMENT
In consideration of being allowed to participate on behalf of Kodas Mobile Dart Battles events and activities, the undersigned acknowledges, appreciates, and agrees that:
1. Participation includes possible exposure to and illness from infectious diseases including but not limited to MRSA, influenza, and COVID-19. While particular rules and personal discipline may reduce this risk, the risk of serious illness and death does exist; and,
2. I KNOWINGLY AND FREELY ASSUME ALL SUCH RISKS, both known and unknown, EVEN IF ARISING FROM THE NEGLIGENCE OF THE RELEASEES or others, and assume full responsibility for my participation; and,
3. I willingly agree to comply with the stated and customary terms and conditions for participation as regards protection against infectious diseases. If, however, I observe and any unusual or significant hazard during my presence or participation, I will remove myself from participation and bring such to the attention of the nearest official immediately; and,
4. I, for myself and on behalf of my heirs, assigns, personal representatives and next of kin, HEREBY RELEASE AND HOLD HARMLESS Kodas Mobile Dart Battles their officers, officials, agents, and/or employees, other participants, sponsoring agencies, sponsors, advertisers, and if applicable, owners and lessors of premises used to conduct the event ("RELEASEES"), WITH RESPECT TO ANY AND ALL ILLNESS, DISABILITY, DEATH, or loss or damage to person or property, WHETHER ARISING FROM THE NEGLIGENCE OF RELEASEES OR OTHERWISE, to the fullest extent permitted by law.
By this Waiver, I assume any risk, and take full responsibility and waive any claims of personal injury, death or damage to personal property associated with Kodas Mobile Dart Battles activities and events organized by Kodas Mobile Dart Battles.
I understand and confirm that by signing this WAIVER AND RELEASE I have given up considerable future legal rights against Kodas Mobile Dart Battles. I have signed this Agreement freely, voluntarily, under no duress. My signature is proof of my intention to execute a complete and unconditional WAIVER AND RELEASE of all liability to the full extent of the law. By signing this, I understand and agree that Participant is 1 years old or older.
MINOR #1: Print Name: _______________________________________ Age: ____ DOB: ______/______/______ Male  Female 
MINOR #2: Print Name: _______________________________________ Age: ____ DOB: ______/______/______ Male  Female 
MINOR #3: Print Name: _______________________________________ Age: ____ DOB: ______/______/______ Male  Female 
_____________________________________________________ X________________________________________________ ` Print Name of Parent/Legal Guardian for Minor(s) ` Signature of Parent/Legal Guardian for Minor(s)
Date Signed _______/_______/___2021